20 Automotive YouTube Channels You Must Subscribe To
There is hardly any other online community that's both united and as ardent as the automotive enthusiast world. From rubber burning, beefy muscle car lovers to JDM fans and F1 geeks, we are all over the web enjoying everything that comes with 4 wheels, an engine and a steering wheel.
Since images speak 1000 words, videos do even more. YouTube has become one of the main sources of content for car enthusiasts of all kinds. Here's a list of 20 awesome car related YouTube channels that you should definitely consider subscribing to.

ChrisFix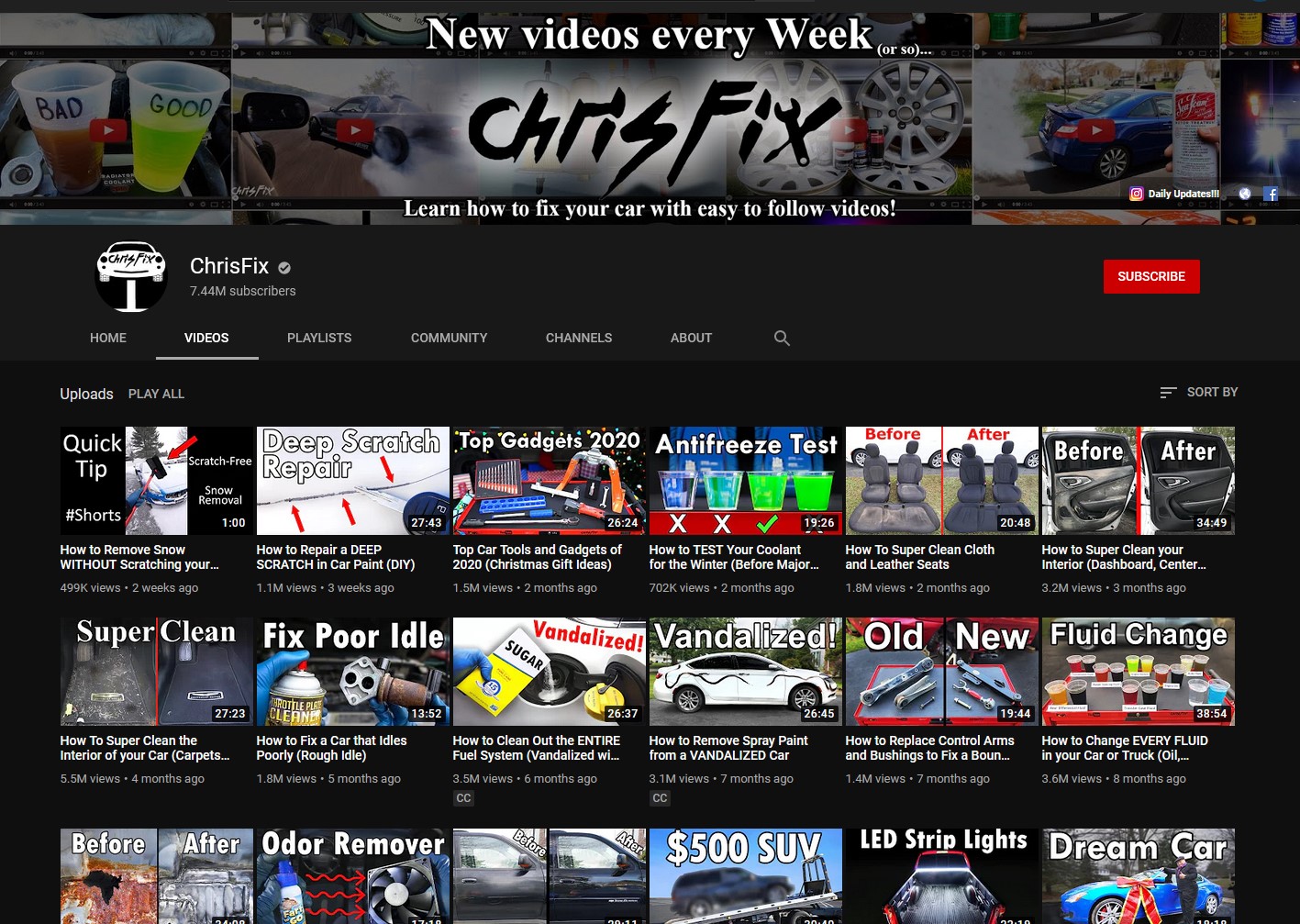 With over 7 million subscribers on YouTube, ChrisFix is one of the most popular self-help car-related channels on YouTube. ChrisFix has posted regularly on YouTube since 2012, showing off how to fix your car on your own for much less than what you'd pay in a repair shop.
If you're a complete newbie or just can't figure out how to get that overtightened oil filter out of a Toyota Tacoma, ChrisFix is the go-to channel for almost every issue. With over a hundred videos, Chris teaches the audience how to do proper maintenance, from oil and coolant replacement, to fixing chipped windshields and replacing suspension bushings for a smoother ride.
Chris, although well known by his nickname ChrisFix, keeps his identity private and almost never shows his face on camera. That doesn't keep him from being recognized right away through his friendly voice and the signature "What's up guys? ChrisFix here!" intro.
Watch ChrisFix: https://www.youtube.com/c/chrisfix/
Doug DeMuro

This automotive YouTuber has gathered 4 million subscribers as of this writing and his videos have been viewed over a billion times.
Back in 2013, DeMuro started buying interesting used cars and reviewing them on his YouTube channel, sparking the interest of an unexpectedly large audience. Today, Doug DeMuro reviews everything from regular cars to some of the most exclusive supercars on the market.  Doug's reviews focus on the vehicles' "quirks and features" and end with his signature "Doug Score", which compares that vehicle to similar ones he's already reviewed.
Some of Doug DeMuro's most popular videos include the review of a $3M Bugatti Chiron, $150,000 BMW i8 and, surprisingly, BMW Isetta.
Watch Doug DeMuro: https://www.youtube.com/c/DougDeMuro/
Carfection

Carfection is a YouTube channel oriented towards new supercar reviews, but also towards older sports cars that have made history. Among the most famous models reviewed by the channel editors include the Subaru Impreza WRC, Jaguar E-Type and De Tomaso Pantera.
Carfection was also among the first YouTube channels to interview legendary F1 engineer and designer Gordon Murray and to release the first video of its latest T50 supercar. Carfection has also covered the Brabham BT62 and the Lotus Evija electric hypercar.
While the number of views on each video isn't indicative of the quality of the content, it's clear that Carfection offers some of the best car enthusiast productions on YouTube.
Watch Carfection: https://www.youtube.com/c/XCARFilms/
Engineering Explained

If there's one channel that goes into the complex physics and mathematics that makes cars work and perform, it's Engineering Explained. Here, Jason Fenske and his trusty whiteboard will tackle the most interesting elements of a car and explain it mathematically. Yet, Jason does such a good job that everyone can understand the facts, regardless of their background.
Engineering Explained gathered 3 million subscribers to date with approximately 500 million views. You may want to check out its most popular video, "5 Things You Should Never do in an Automatic Car."
Watch Engineering Explained: https://www.youtube.com/c/EngineeringExplained/
AMMO NYC

When it comes to cleanliness freaks, AMMO NYC is the channel to satisfy your need for squeaky clean cars and unbelievable restorations. In its videos, Larry Kosilla travels around the world and tackles interesting car care issues.
From supercars to multi-million-dollar vintage cars, Larry breaks down the steps needed to revive both the exterior and interior of any car that has been neglected. Among his videos, Larry Kosilla demonstrates how he revitalized a vehicle that hadn't been taken care of in almost 4 decades.
Watch AMMO NYC: https://www.youtube.com/c/AMMONYCdotcom/
Donut Media

By sharing stories about cool cars, showcasing the history behind iconic models and comparing cheap vs premium parts, Donut Media brings together all breeds of car enthusiasts. With close to 1 billion views to date, Donut Media covers classic supercars like the Skyline GT-R, Toyota Supra as well as tamer Golf GTIs or BMW M3.
If you're wondering if aftermarket headlights are worth it or why some automotive paints can cost as much as $2,000 per gallon, Donut Media has you covered.
Watch Donut Media: https://www.youtube.com/c/DonutMediaTV/
THE DRIVE

Built to provide a more professional view of the car culture, THE DRIVE has almost 2 million YouTube subscribers. The channel takes its viewers on the road with honest testing of some very expensive cars. When Chris Harris isn't reviewing the latest Escalade or Aventador SVJ, he might expound on the history of the Porsche 919 or take an iconic Mercedes 190E DTM for a spin around the track.  If you want to see cars pushed to their absolute limit on the track, complete with smoky drifts around every apex, then you'll want to see Chris Harris behind the wheel.
Watch THE DRIVE: https://www.youtube.com/c/drive/
1230 Video

A heaven for muscle car and drag racing enthusiasts, 1230Video brings together the best out of these worlds. With nearly 3 million subscribers, the channel brings exclusive videos of highly modified and powerful cars. 1000hp Audi RS3, stick-shifted, flame-throwing Camaros or 3000hp Dodge Vipers are just business as usual for 1230Video.
Apart from dissection and action videos of Hulk-like engines, the channel will also cover drag racing events across the United States, both sanctioned and unsanctioned.
Watch 1230 Video: https://www.youtube.com/c/1320video/
CarThrottle

Bringing everything related to cars under a single roof, CarThrottle is newer to the business than some of the other names listed here. Even so, it has managed to acquire a very loyal fan base, which is being treated to videos ranging from new car reviews, automotive news, and channel-specific clips. Among the latter, the three guys buy and restore old cars, while also gradually upgrading parts before racing on the track to note time differences.
Watch CarThrottle: https://www.youtube.com/c/CarThrottle/
Hoovies Garage

Looking for someone who is willing to regularly take insane financial risks for your viewing pleasure? Tyler Hoover is your man! He buys the cheapest example of a particular car model he can find in the U.S., which generally is loaded with issues that his "Car Wizard" needs to fix.  Speaking of the "Car Wizard", he also has a YouTube channel that is worth a look.  Anyways, some of Hoovies most famous acquisitions include a Rolls-Royce Phantom, a Toyota Prius with a dead hybrid system and buying two Lamborghini's on the same day. With his Hooptie Fleet of cars, his channel has gathered 1.2 million subscribers and his videos tallying up nearly 250 million views.
Watch Hoovies Garage: https://www.youtube.com/c/HooviesGarage/
Jay Leno's Garage

This one barely needs any introduction as it's highly unlikely that there is a car buff on Earth who's never heard of Jay Leno. Continuing his award-winning series on YouTube, Jay Leno's Garage brings a new episode every week. Thanks to his considerable influence and popularity, Jay Leno is able to feature otherwise unseen cars such as the Decoliner, US Army's FED or the Fab Fours Legend. However, probably the most iconic episode of Jay Leno's Garage is the Batman's Tumbler, which has gathered no less than 17 million views so far.  Although Leno is a talented stand-up comedian, writer, producer and television host, his shines the brightest in his garage.  His enthusiasm is natural (unlike it was at times behind the Tonight Show desk), and his knowledge of everything automotive is extremely deep.
Watch Jay Leno's Garage: https://www.youtube.com/c/jaylenosgarage/
TheSmokingTire

One of the more unfiltered automotive channels on YouTube, TheSmokingTire, features weekly videos from Matt Farah and Zack Klapman. The duo brings car reviews to the public and showcase their adventures, promoting independent and unhinged thoughts. The channel has gathered 1 million subscribers since 2009 with over a thousand clips, TheSmokingTire sums up over 310 million views. If you're looking for unfiltered, honest reviews of new cars, this is the go to channel.
Watch TheSmokingTire: https://www.youtube.com/user/TheSmokingTire/
TheStraightPipes

With 490 videos and over 220 million views, Yuri and Jakub showcase and review cars from Toronto, Canada. The two co-owners of The Straight Pipes are members of the Automobile Journalists Association of Canada and pride themselves in not having any agency affiliation. Usually, Yuri and Jakub ride and drive together in newly released cars.  They casually, but honestly, discuss the pros and cons of the vehicles. The team is also praised by the viewers for showcasing details overlooked by other reviewers, such as close-up shots on the paint and tire specifications.
Watch TheStraightPipes: https://www.youtube.com/user/TheStraightPipes/
AutoTopNL

Want to spend some quality time during your coffee break? How about binging over AutoTopNL's awesome autobahn POV driving videos? The online car filming and testing company is one of the biggest channels of this kind in Europe, with 2.4 million subscribers and over a billion views to date.
Since AutoTopNL joined YouTube in 2010, it has consistently provided some of the highest quality POV videos of supercars. Among their clips, you get to enjoy exhaust sounds and acceleration tests up to 60, 120 and 190mph, all happening on Germany's legendary Autobahn.
The channel covers a wide variety of brands and models, from common Ford sport sedans to exotic Lamborghinis and Porsches. By far the most popular video on the channel features a POV experience of a 1,239 horsepower Toyota Supra roaring on the Autobahn without giving a rip about speed limits.
Watch AutoTopNL: https://www.youtube.com/c/AutoTopnl/
FORMULA 1

As one would expect, there is no way to talk about fast cars without mentioning the pinnacle of motorsports, Formula 1. With 4.5 million subscribers and over 3,000 videos, the official Formula 1 YouTube channel brings on the juiciest moments of each Grand Prix.
Since its inception in 2005, the channel has accrued over 3 billion views, with a large amount from recent years as the sport becomes more integrated into social media. Before and after each race weekend, Formula 1 channel will provide insights, interviews and best moments and team radio conversations. Scroll enough and you will also get to see some of the most dramatic moments in recent Formula 1 history.
Watch FORMULA 1: https://www.youtube.com/c/F1/
Driver61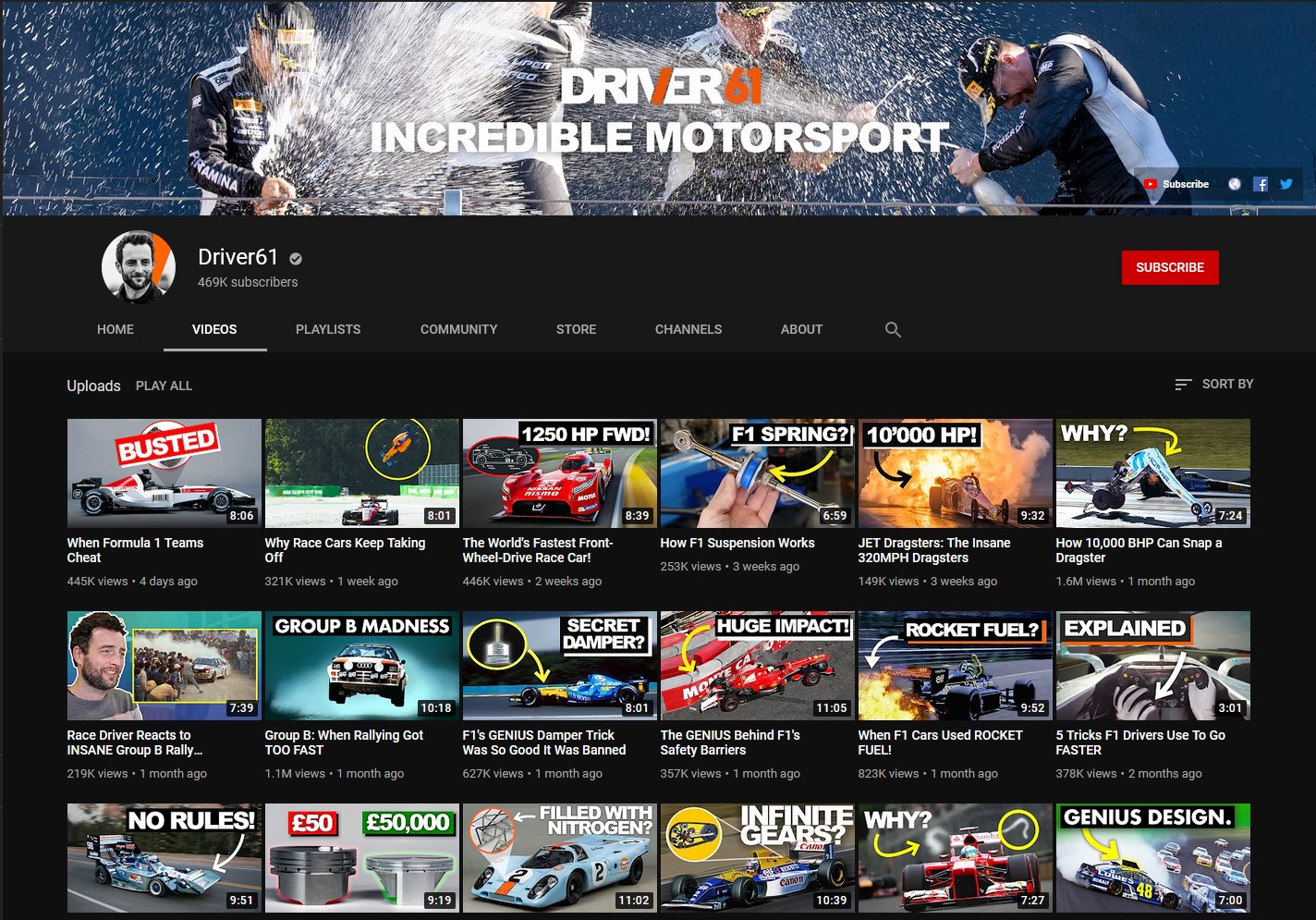 Established and run by professional driver and racing coach Scott Mansell, Driver61 is the ultimate resource for those who want to improve their lap times during track days. Even if you don't own a race-ready car to blast through the apex at the Nürburgring, Scott Mansell provides insightful videos on how Formula 1 cars work and how their components are different from what you'd find on an average car as well as critiquing driver decisions and techniques.
Furthermore, for those willing and able to learn and improve their track driving techniques, Scott Mansell offers a racing course as part of his Driver's University.
Watch Driver61: https://www.youtube.com/c/Driver61/
KYLE ENGINEERS

Speaking of racing and getting the most out of your car, this is where aerodynamics comes into play. Kyle, the man behind Kyle Engineers is a former F1 specialist with a Ph.D. in racecar aerodynamics.
While the channel may not be as famous and subscriber-rich as some of the other names mentioned in this list, Kyle Engineers stands out to those who really want to get down and dirty with math and engineering. Kyle takes racing technology to a professional level, meaning that in some cases a bit of background in engineering may be required to fully grasp the concepts.
However, Kyle Engineers also covers broader topics such as general car technology and new concepts found on modern vehicles, explaining the pros and cons.
Watch KYLE ENGINEERS: https://www.youtube.com/c/KYLEDRIVES/
Harry's Garage

Harry Metcalfe, best known for founding Evo car magazine in 1998, has become a major fixture in automotive journalism. After leaving Evo magazine in 2013, Harry became an advisor for Jaguar Land Rover, particularly for the JLR Special Operations division. Describing his channel as "the world's most characterful cars via video," Harry Metcalfe brings to the camera the same style that made Evo magazine skyrocket in popularity.  Most Harry's Garage episodes take place inside Metcalfe's garage filled with his personal and impressive fleet of cars and motorcycles.  Sometimes Harry reviews his own cars and drives them down narrow stone fenced English roads, and in others he reviews notable vehicles that pay a visit to his garage.
Watch Harry's Garage: https://www.youtube.com/c/Harrysgarage/
Petrolicious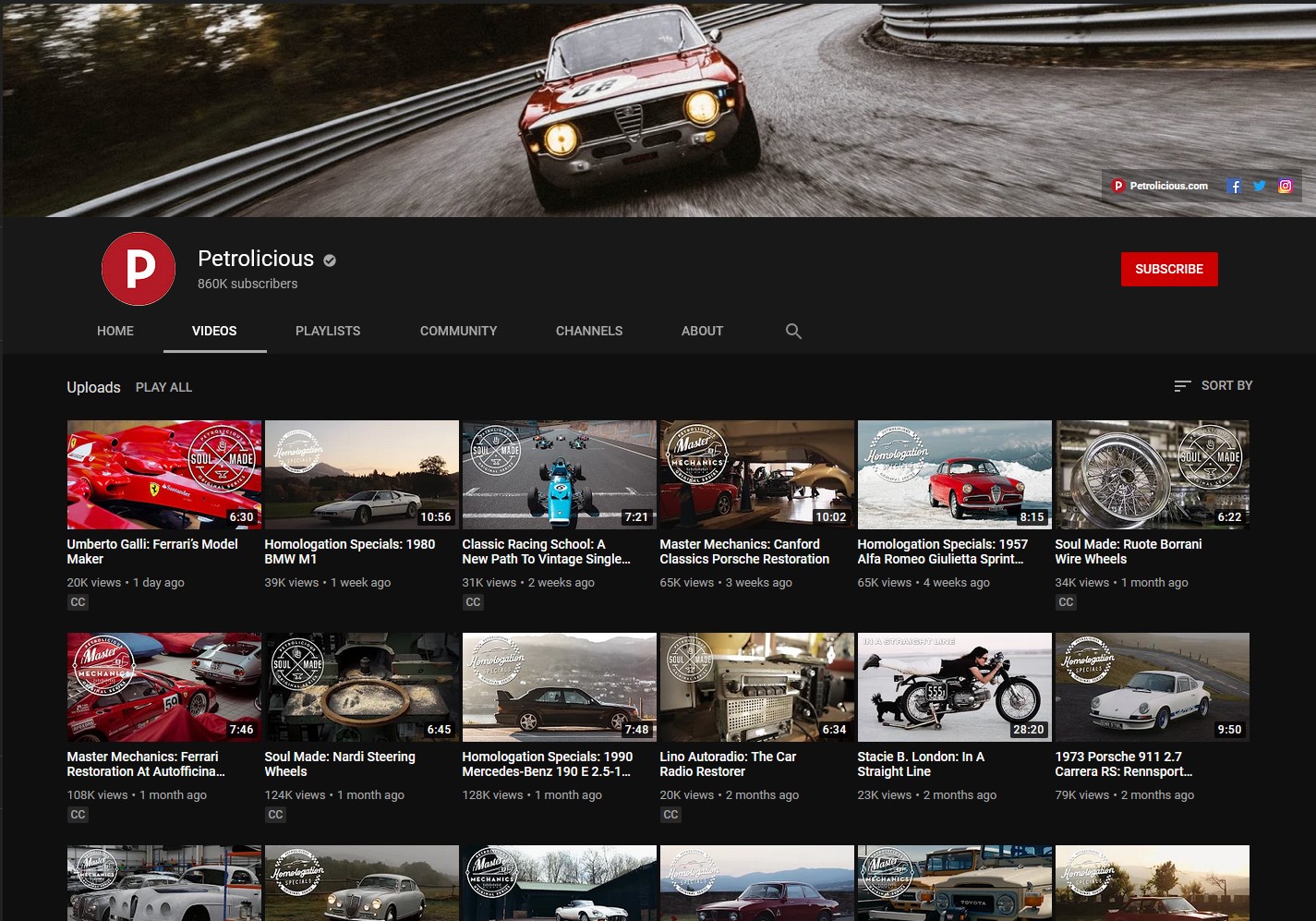 When it comes to the pinnacle of car video production quality, Petrolicious wins hands down. Aimed at providing the utmost quality content for classic car enthusiasts, Petrolicious brings detailed views of cars that left their footprint in history. The channel features probably the best material ever made on the well-known Ferrari 250 GTO, including seven minutes of the iconic supercar in a hill climb section. If you're into classic cars, then Petrolicious is a must.
Watch Petrolicious: https://www.youtube.com/c/Petrolicious/
Bad Obsession Motorsport

Perhaps the least-known channel in this list is Bad Obsession Motorsport which has "only" 372k subscribers. Bad Obsession Motorsport is a race and rally car preparation firm, targeting solely mad projects. Among the works, the channel has provided a 4WD, turbocharged 2-liter Austin Mini. The channel also focuses on taking extremely cheap and not-so-dynamic cars and turning them into decent track pieces, part by part.
Watch Bad Obsession Motorsport: https://www.youtube.com/c/BadObsessionMotorsport/