2020 Genesis G70 Review: Deserving of the Accolades
2019 was the third model year for the Genesis brand, and what could be a better way to ensure a long life than adding a third sedan to your lineup consisting of two other luxury sedans? If you ask many comment section critics, it would be a better use of the platform shared with the Kia Stinger, if Genesis moved with the herd and produced an overdue luxury crossover for the crossover obsessed American market. Common sense says a luxury utility vehicle would have been well received and a shot in the arm for the fledgling brand (Genesis reports a crossover concept GV80 is in fact coming); as an enthusiast of sport sedans I welcome the sleek and athletic G70 with open arms. A hefty range of ten trim packages for the G70 allows potential buyers to select a model that feels more bespoke than you would expect for the price point.
Billed as a competitor to the Audi A4, Lexus IS, Mercedes C Class, and the class benchmark BMW 3 series; the G70 is shorter, slimmer, and more sports focused than its stablemates the G80 and G90. Though it shares a platform with Kia's Stinger, no panels are shared, and the G70 is in fact smaller than its hatch adorned cousin. The freshman G70 came out swinging and landing on nearly every punch, taking home multiple industry accolades including North American Car of the Year, #1 Compact Premium Car in Initial Quality by J.D. Power, and the very competitive Motor Trend Car of the Year. Hyundai Motor's acquisition of Albert Biermann from BMW's acclaimed M Division as the head of R&D proves the Genesis brand is not just asking for a seat at the table, they aim to take the throne!
Upon approaching the G70 the first impression is that it is definitely designed by a Korean manufacturer… Cut and paste auto design language does not translate well in the luxury class. In today's age of apparent auto design "globalization", this is arguably an unfair shot to take, but besides the handsome Genesis crest grille, you will see plenty of Mercedes, Infiniti, and even a little Maserati Ghibli. Criticism aside, the pieces came together well to make a stylish, athletic car that perfectly balances luxury and performance styling.
Driver assists are what you would expect from a vehicle in this class. Surprisingly, some of the assists that come standard in the Genesis are premium options on many of its competitors. Features such as: Forward collision avoidance with pedestrian detection, Driver Attention Warning, high beam assist, blind spot collision warning, Smart Cruise with auto stop and go, and lane keep assist can be found on every G70. When optioned out, features like a surround view monitor, rear cross traffic warning, and for the 2.0 M/T Sport Tuned Electronic Stability Control prove the G70 earned its title "Car of the Year". Additionally, technology features are current and convenient with Amazon Alexa, and Google Assistant voice service, as well as Genesis Connected Services allowing remote control of features such as door lock control, engine startup, location, and climate control.
LED headlamps and tail light modules come standard with full LED in front and incandescent signals and reverse lamps out back. The roofline is flowing and sweeps down into the muscular trunk lid that features a sort of ducktail formed nicely from converging body lines. The profile is par for a sedan… That is except for the chrome boomerang tacked onto the fenders. Though this cladding may appear to be placed as an afterthought, it is actually a functional vent that directs air from inside the lower front bumper out the side instead of underneath the chassis. Functional vents are always cool, therefore all complaints herein regarding the chrome boomerang are null.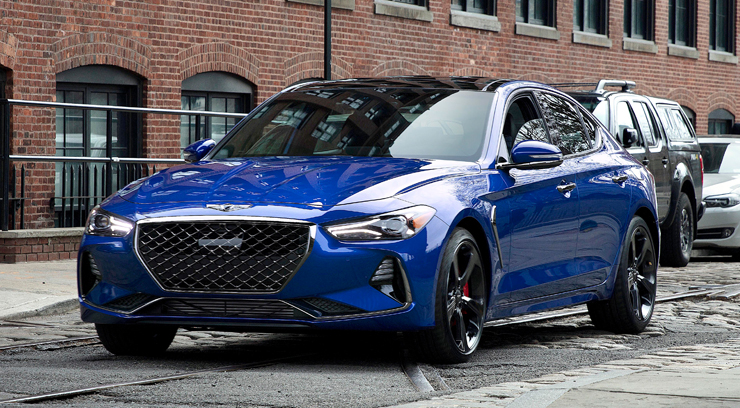 Under the hood, you have two choices when selecting how to power your G70: A 2.0 liter turbo GDI I4, or 3.3T twin-turbo GDI V6. A base model 2.0T produces 252 horsepower and 260 lb-ft of torque. When mated to the six speed manual transmission the horsepower output is bumped a whole 3 horses to 255 and torque numbers remain the same. Did you catch that last part? Genesis is aiming to rack up some street cred with an available six speed transmission… In 2019… Fantastic! I will save you some research; the BMW 3 series is the only other vehicle in class that still gives you a third pedal option now that the Cadillac ATS is a zombie model (discontinued production in 2018). With the manual transmission exclusive to the 2.0T and only in RWD, the rest of the range sports an 8-speed auto with paddle shifters neatly behind the steering wheel.
There are some real highs and lows when it comes to this 2.0 M/T Sport, so before I get into it let me say I love this car simply for its spirit. Genesis took the leap to not only build a performance sedan at a low entry fee, but to give real attention to things their target market cares about. Available only in rear wheel drive; the power can be delivered through a rear diff stuffed with limited slip goodies making spirited driving in the G70 a real kick. This is the only trim that is equipped with a traditional hand brake rather than the standard equipped electronic parking brake. The exhaust features real chrome tips that sing a confident tone for a 4 cylinder, which is good because said exhaust is offset to the passenger side instead of a sporty dual exit look you would expect in this class. The 3500 pound sedan really makes the smaller engine work hard as it claws its way to 60 in 6.9 seconds… That's slower than the 2019 Hyundai Kona. The quarter mile time however is 15.4 seconds… also slower than the Kona. I feel like it's fair to say the G70 2.0T M/T is the Toyota GT86 of luxury sport sedans: Looks fast, handles with confidence, and just slow enough to get tail happy without getting you into trouble.
To get the most the G70 has to offer you will want the 3.3T, which in any trim puts power down to the sum of 365 HP, and 376 lb-ft of torque. This twin-turbo V6 is more powerful than class favorites including the AMG C43 (362HP), Audi S4 (354HP), and the Lexus IS350 F-Sport (311HP). Your only transmission on the V6 is the 8 speed auto also with your choice of RWD or AWD. You will find the under hood presentation to be embarrassingly underwhelming. This may not be a detail most shoppers have on their minds, but it's enough to make you avoid popping the hood when showing off your new car to friends. A parts bin engine cover is one of the more apparent cost cutting measures you will have to live with, but easier to ignore when you see that Genesis put priorities where it counts. Standard performance features include: Launch control, downshift rev-matching, and cornering gear hold to allow brisk acceleration out of corners; I will take the basic engine cover for launch control alone!
Moving down to where the rubber meets the road, Michelin All Seasons wrap 18" alloy wheels as standard equipment on the 2.0T. Staggered 225 front and 255 rear Michelin summer tires mounted on 19" alloys are optional upgrades on the Dynamic and Sport 2.0 packages, and are standard equipment on all 3.3T packages. Available oversized Brembo brakes that come standard with the twin-turbo six, is an option for the 2.0 M/T Sport. Control of the AWD G70 range is regulated by an advanced system that adjusts the front/rear bias as conditions and driving style warrant. Dynamic Torque vectoring rounds out the AWD system by giving the driver confidence in all driving conditions, while not restricting spirited driving.
The principal characteristic when it comes to luxury is the interior and Genesis almost pulls it off. Standard seat covering instead of cloth is leatherette for the 2.0; standard leather is reserved for the 3.3T. The seats are stitched well and feel as supportive as they look. The available quilted nappa leather seats are a good touch in any color, but if contrast stitching is your thing the sport black with red stitch is a bold look that is sure to leave an impression. 12 or optional 14 way power seats are available in the 2.0T, with 16 way that automatically hold you with power side bolsters are standard with the 3.3T. Seat-backs are no more than embarrassing compared to the rest of this car, with hard molded plastic with net pockets hanging off the back look like something from an intermediate sedan from 2005. Rear seat space is typical for this class, but due to the sleek roofline headspace is tight. Door controls and switches look great and have excellent placement, with rear seat warming switches on each door rather than the usual low placement on the center console. The G70 looks above its class with the optional microfiber suede headliner, and the standard audio in the 3.3T is a remarkable 15 speaker Lexicon Audio system. Trunk space is less than modest at a shallow 10.8 cu-ft, but for this vehicle it feels sufficient and the hands free trunk lid helps.
Impressions of the dash and console are mixed. The overall presentation is clean, driver-centric, and the wireless phone charging pad is exactly where you would toss your phone even if you didn't know it was there. Bezels around the cup holders are a nice touch, personally I would like to cover cup holders when not in use. The steering wheel feels connected and elegant at the same time, and just behind it sits the analog gauge set with no option for a full digital HD display. This is probably a cost cutting measure, but really should be an option at least at the top of the range as more vehicles in this class are moving this way. Possibly the lowest point on the G70 is the very Hyundai media and climate controls. Hyundai makes a good product, just out of place in a Genesis. Program software in the 8" touchscreen could stand to have a theme that looks a little more elegant and not so "pop". Available full color windshield heads up display really helps to remind you that the G70 was built to perform and even the text changes to italics when drive mode is switched to "Sport".
Without question, the G70 earned every award it was given this year. It's a luxury car first if that's what you want, otherwise it has no problem being a sports car. There are multiple apparent cost control measures if you bother to look for them, but I hesitate to complain as they made room for more substantive features and equipment. Base MSRP for the 2020 Genesis G70 2.0T is $34,900 and for the 3.3T $43,750 to get started up to $52,495 for the range topping Sport package. This car is without a doubt the best value in its class at any trim level. Genesis is still a new brand finding its style, and I wonder what is in store 5-10 years down the road. Will they formulate their own design language beyond a grille, and how long until this technology and attention to performance enthusiast desires gets us another Genesis Coupe? This is a prime example of a luxury sport sedan, and has cemented the brand as capable of building something to be taken seriously. To use a tired sports analogy in closing: If a sedan in the American market is like hitting a single… then the G90,G80, and G70 have loaded the bases with no outs. A crossover with the right styling, performance, and price will be a grand-slam for Genesis.
2020 Genesis G70 Pictures: